Oakton Debate Makes "Sweet 16" At National Championship in Debate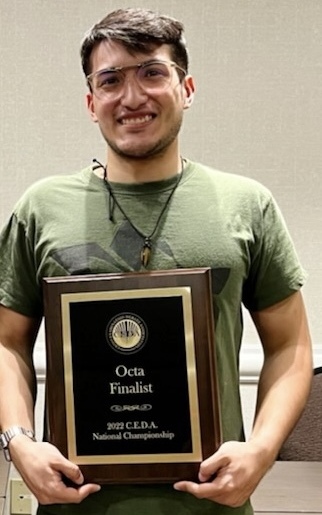 The Oakton  debate team participated last week in the Cross Examination Debate Association ("CEDA") National Championships. This was Oakton Debate's first appearance at CEDA Nationals. Teamed with a student from Macalester College, Oakton student Luis Toro advanced to stand among the top 16 debate teams in the country.
This performance at CEDA Nationals caps an incredible season for Oakton Debate, which included first place showing in the JV Division of the University of Kentucky and a semi-final performance at Harvard (in Junior Varsity). After these stellar performances in the JV Division, Coach Chris Langone encouraged Luis to "play up" and compete in the Open Division.
"I am so proud of Luis' performance at CEDA Nationals, especially given he is a JV Debater, in his first year of competition at CEDA," debate coach Professor Christopher Langone said. "Oakton Debate is on the forefront of elevating the competitive opportunities for debate at the community college level."
Prior to coming to Oakton, Langone was the Assistant Director of Debate at Cornell University, and helped coach the team to its title of the Number 1 debate team in the world in 2013. "I have a big vision for Oakton Debate, which I believe will be a leader among community colleges in debate at the national level," said Langone.
"This year of debate has been a big game changer for me and has given me many opportunities I would never have been able to access without playing up and doing all the work," said Luis Toro.
Oakton Debate meets on Mondays and Thursdays at 5 pm, for more information contact Director of Debate, Chris Langone, at [email protected] or team Captain, Luis Toro at [email protected].
-Submitted by the Oakton debate team