Connections to Ukraine spurs reaction on campus
Oakton held a symposium in response to the Russian invasion of Ukraine on March 8. Professor of political science George Lungu and Ukrainian born faculty member Svetlana Boulavina spoke on the topic.
In response to the symposium, student leaders and clubs collaborated to host the Oakton Stands With Ukraine fundraiser. Oakton students will be selling Ukrainian and sunflower themed items to donate proceeds to UNICEF and the International Medical Corps.
Professor Boulavina wore a Ukrainian necklace and blouse called a Vyshyvanka. A casual name for the embroidered shirt in Ukrainian and Belarusian national costumes. The Ukrainian vyshyvanka is distinguished by local embroidery features specific to Ukrainian embroidery.
Boulavina said, "I was wearing a Ukrainian embroidered blouse and a red coral necklace to express my solidarity with the people of Ukraine where I lived 40 years of my life. Ukrainian women/girls have always worn their most beautiful embroidered blouse("vyshyvanka") with red corals and a colorful handwoven wool skirt("zapaska" or "plahta"), a Ukrainian national costume."
Boulavina spoke of her homeland with passion and pride. She had hope. She pointed out that the citizens of Ukraine were the ones fighting. "Russia cannot win. People are fighting and people cannot be defeated," Boulavina said.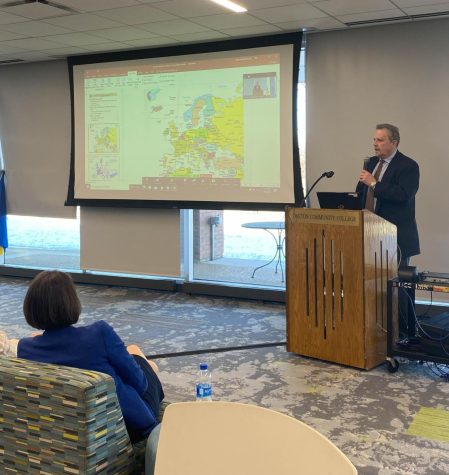 Professor George Lungu spoke on the origins of NATO, the North Atlantic Treaty Organization. The North Atlantic Treaty Organization was created in 1949 by the United States, Canada, and
several Western European nations to provide collective security against the Soviet Union.
He expressed concern about the tribulations of political situations like this. That logically, the larger the conflict, the larger the danger of more people being affected. "If we define victory as military intervention, Ukraine will not win," Lungu said.
Oakton Student Lawrence Escarez said about the speakers, "I liked how there were two different perspectives. One speaker's presentation was based on policies while the other speaker spoke on her personal experience because she grew up in Ukraine. I thought this was important because their perspectives were unique but they had the same message at the end of the day."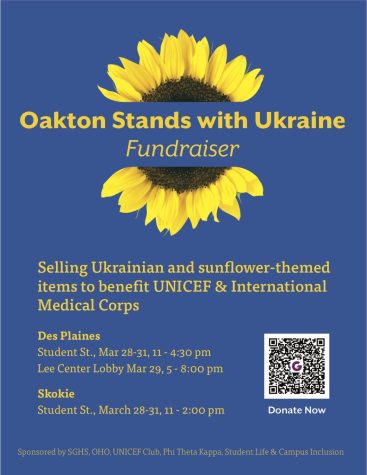 The fundraiser will be at the Des Plaines campus on student street March 28-31, 11-4:30 pm and in the Lee Center Lobby March 29 5-8:00pm. As well as on the Skokie campus' student street March 28-31, 11-2:00pm.
Boulavina presented President Dr. Joianne Smith a print of an original painting on glass made by an American-Ukrainian artist Elena Diadenko. Boulavina said Diadenko, "happens to be my friend. Elena is a Chicago public school art teacher, a Golden Apple Award for Excellence in Teaching recipient, who has participated in numerous American and international art shows and is a recipient of multiple awards." Diadenko's art is exhibited at the Ukrainian National Museum in Chicago. And the proceeds for the current art show are being donating to Revived Soldiers Ukraine fund.
"I chose this specific print as its original is a painting on glass, an old Ukrainian painting technique, which was used by the Ukrainian artists centuries ago both in folk art and in icon painting. Elena doesn't want this old fine arts genre to become forgotten and obsolete, so she is reviving it," Boulavina said.
Boulavina added, "The print is a portrait of a Ukrainian young girl wearing a Ukrainian folk costume and playing a pluck string folk musical instrument "bandura" which is very popular in Ukraine. On the background there are sunflowers, national flowers of Ukraine."
Matthew Schiavone added research to this article