Empty Bowls event showcases art and benefits food bank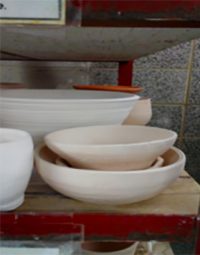 Students and community can enjoy a hot lunch this Saturday, Dec. 1, and help support Empty Bowls at Oakton. The event, raises awareness of local and worldwide hunger while benefiting local food pantries.
It will run 10:30 a.m. to 2 p.m. at Oakton's TenHoeve Center, Des Plaines.
For a donation of just $16, participants can choose and keep their favorite from among 1,500 handcrafted soup bowls made by local professional and student potters.  A soup and bread lunch, as well as live music, is included.
The Rick and Trevor Shandling Duo will provide entertainment.
"I'd never miss it," said Robin Sluzas.  "It's for a great cause, all the proceeds go to the Greater Chicago Food Depository.  Besides, there is great art. And the lunch is pretty good too."
Empty Bowls at Oakton is part of a global nonprofit movement that has raised millions of dollars for food banks,  soup kitchens and other meal programs. That's why the Ceramics Club at Oakton is sponsoring the event with the support of the Student Government Association.
Since 2004, Empty Bowls at Oakton has raised more than $330,000 for area charities through the sale of approximately 15,500 handmade bowls.