Oakton offers a wide variety of methods of instruction; choosing has gotten tricky
Students react to a more online Oakton
Since the COVID-19 pandemic, Oakton has been offering a few different types of classes for its students. But Oakton as a community college has always offered different types of courses than traditional Face to Face learning, for example as early as Fall 2018 around 33 percent were totally or partially online. 
But the shift since the Pandemic has been drastic. Face to Face courses dropped from 66 percent to a shocking 35 percent of all courses offered between Fall 2018 and Fall 2022 while Online classes increased from 33 percent of courses offered in Fall 2018 to 65 percent of courses offered in Fall 2022.
Everyone knows that these changes largely began with the Pandemic but we want to emphasize how students feel about different types of courses.

  "I prefer In-Person mainly for the social aspect to interact with my fellow students and get to know them. But if we're talking purely academic, Online Anytime is more manageable and flexible for me and results in better performances," Murtaza Hassan said. 
Though not everyone was as positive about the shifts towards more online courses as many students found difficulties with Online Live  and Online Anytime courses, " The style of class I'd least like to take is Online Anytime for the lack of a classroom environment and interpersonal interaction," said Waleed Faruki. He also critiqued the type of courses that were made Online Anytime, " I wish there were more Online Live and In-Person classes in Math and Computer Science."
But the type of class that more criticism was found of were Online Live classes as Foster Seifert said, "Online Live has the same issues of an Online Anytime class added by not being able to control when you can do your work and you have to schedule like an In-Person course." 
Other students had similar criticisms when it came to the structure of Online Live classes "Online Live is my least favorite type of class cause it's either I go to class or I don't. I don't like meeting on a zoom screen and sitting there for class hours" said Hassan 
Overall, students viewed In-Person courses with the most favor, " I would say that an In-Person learning environment fosters more interpersonal learning and gain a rewarding relationship with Teachers. It's hard to learn completely independent cause I like the support of my peers, but I've had good experiences in online courses before cause teachers still put in the effort to meet with you," said Faruki.
 Overall it seems like the shift towards a more online Oakton is less popular with the student body even if they'll take online classes.
–Josh Finkelstein
Professors give perspective
"
  You don't have the person to person interaction that you would have in person.
— Professor Louis Maritnez- (about teaching online)
Students have found it difficult to contact their professor when taking an Online Anytime class. It is also difficult for the professors to get in touch with the students and to get them to engage in classroom activities. 
 Whereas for In Person classes, it is much easier for both to contact each other and get the students to participate in class work. Two Oakton professors both agree that online live and Online anytime classes are the most difficult thing to deal with. 
 According to Oakton's course catalog Online Live means to regularly have classes through Zoom or Google Meets and Online Anytime is what they used to call asynchronous classes. "You will access course materials through an online learning platform."
Professor Dan Roth, said the biggest issue with Online Live is that, "the students won't talk, and it's easy for them to fall behind on assignments." He also said, "Asyronchous biggest issue is that students need to be self motivated."
Professor Louis Martinez said one issue he sees is, "You don't have the person to person interaction that you would have in person." 
Both say the best way to contact them is through email. However, Roth said, "the only issue with this is that students don't do it  [email] soon enough." 
Martinez said that when students email him, they don't identify who they are. He suggests students should say who they are and what class they are taking at the beginning of the email.

– Jomon Abraham
Access codes empty bookstore shelves
Not every class here utilizes a textbook, but for most gen-ed classes – especially science and history – they are essential to the learning process.
With the constant exponential evolution of technology, the use of e-books are becoming more and more common. So much so that in some cases, an ebook is the only option.
Jennifer Spencer – Textbook Buyer at the Oakton bookstore – has worked in the bookstore for 20 plus years, and she's watched the slow evolution of the e-book. "We used to buy and sell a lot more textbooks, so now the shelves are not very full of physical textbooks, but we do have access codes."
E-books have also caused a decline in sales, as most students will buy their e-book directly from the supplier rather than an access code at the bookstore. "We do get a lot of students who use financial aid to purchase access codes, but a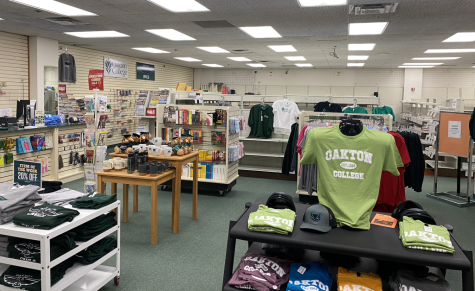 vast majority of students without financial aid do go the direct route."
Student Sam Sulkin reflected on the major differences between physical textbooks and e-books. "Physical textbooks are better because it allows me to annotate straight on the pages without jumping through hoops," he said. 
While Sulkin is a big supporter of physical textbooks, he understands that e-books are the future, but in order to be practical, there are some changes that can be made. "I definitely think there's room to develop a better, more interactive software for ebooks instead of having students download a massive PDF file."
– Dylan Ward
Different Lengths for Different Strengths
In the Fall 2023 semester at Oakton, sixteen-week courses start on Aug. 21, twelve-week courses start on Sept. 18 and eight-week courses start Oct. 16. When deciding what to take, students may need to take into account how much time they will have to complete all of the coursework. 
Brian Herrara took Bio 105, Human Genetics as a sixteen-week class. "It was good having extra breathing room and being able to catch up if you do miss a week," said Brian Herrara. 
In eight-week classes with long synchronous meeting times, professors have found ways to keep students engaged.
Jomon took Biology 101, Intro to Life Science as an eight-week long class. "To make it more engaging there were hands-on activities in the lab and watching the teacher do something instead of just reading about it," said Jomon Abraham.
-Kristi Grunditz