Singer and frontman of 'Wolf Rd.' gives scoop on the local band's origins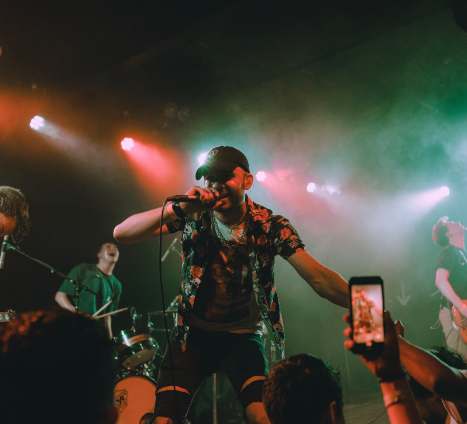 Music is important to area resident Chris Hoffmann, singer/frontman of Wolf Rd. From the early days of learning the guitar at 12 years old to winning numerous Battle of the Bands competitions at Maine West High School and the Illinois State Fair, Hoffmann continues to be a known presence in the local Chicago music scene. "To me, it's more like my second job at this point," said Hoffmann. 
The pivotal moment that solidified his passion came from a nighttime drive with his father. The soundtrack for their ride was Pink Floyd's album, " The Dark Side of the Moon." "Something about the sound of it completely drew me in," said Hoffmann.
"I don't know if it's just how big it is, being epic and mysterious, the tones, the themes. You know, they've got the clocks banging and money and cash registers, whatever. Something about that album was just like an 'aha' moment for me." 
Today, Hoffmann listens to the likes of Machine Gun Kelly, MOD SUN, Bad Omens, and Bring Me the Horizon. His  love for pop-punk and "metal-adjacent rock," can be found in the roots of the Wolf Rd. sound. 
Wolf Rd. was created by Hoffmann and his younger brother, Nick. With Nick on the drums and Hoffmann covering vocals, they rounded out their sound with guitar player and longtime neighbor, Geoff Duckmann. 
The three began playing covers of classic pop-punk artists like Green Day, Fall Out Boy, and Sum 41. "I just wanted experience performing in front of people, (and have) an excuse to sing and practice," said Hoffmann.
Over time, the three decided they had had enough playing covers and began writing original material together. With a new direction for the group, the band started, "jamming ideas one summer, and that's kind of how we put together the first Wolf Rd. EP," said Hoffmann. 
Their first EP was entitled "Nowhere Around You," and was self-released in 2019. It features the tracks "Oakton," "Winthrop," and "Blue Moon." 
With fresh songs recorded and ready to be played for a live audience, Wolf Rd. recruited bass player, Devin Stone. Stone was Duckmann's fraternity 'Big' in college, and ended up being the right fit to complete the band's lineup. 
To Hoffmann, the fusion of genres reveals the band's authenticity in their music compositions. "That's something that was just never a question to us because, as simple as it sounds, we make the music we like and would want to listen to," said Hoffmann. 
While the band initially wasn't sure whether their cornucopia of sounds would blend well together, they weren't deterred. Now, they use "genre-inclusivity" as part of the brand they built. 
The band seeks to create a cathartic experience for listeners and fans. For Hoffmann, the band's goal is, "to get people to have fun and maybe release energy in a positive way, depending on what the song is about." 
By giving audiences an outlet to channel emotions like heartache and aggression, Hoffmann seeks to help build friendships at Wolf Rd. shows.
The band's latest single, "Bloom & Disconnect," exemplifies how the band uses burdens of everyday life to create heartfelt music. Built around two themes, the song's chorus was written by Hoffmann's brother, who was inspired to write about growing apart from friends. 
"He wanted to write about basically this feeling that a lot of people in the mid-to-late twenties kind of go through," said Hoffmann. "And it's one of those things where it's like, sometimes people just naturally grow apart just because of the way their lifestyles are going. It can be a very sad thing. But it's also just like, people are doing their thing and becoming who they're supposed to be." 
The track's other theme came as a contribution from Duckmann, who lost a family member during the pandemic of Covid-19. As the song begins to crescendo to the bridge, Hoffmann said the lyrics are about, "somebody passing away (and) not being able to be there for them." 
However, songs themselves are not enough to maintain the longevity of a local band. Hoffmann can attest to the fact that being in a band is an expensive endeavor. "It can cost thousands of dollars for a great music video, thousands of dollars to record music with a great producer," he said. "So we're very lucky that all four of us in Wolf Rd. now all have full time day jobs."
Wolf Rd. collaborates more than just on the songs, as each of them financially contributes to keep their operation going and the music playing. 
For Hoffmann, the future of the band looks bright. While he knows there's no guarantee of making it big, Hoffmann said, "I'd like to think that our stuff is really good and there could be definitely the possibility to have that breakthrough moment." 
As the band continues to progress as musicians, the chances of, "having the right song at the right moment," seems more attainable. 
Hoffmann looks to the advice of Gary Vaynerchuk as a guide for artists looking to establish themselves in the scene. Hoffmann follows the mantra of, "(take) chances, try everything, (and) put out all the content possible." 
Persistence coupled with an awareness of personal limitations is how Wolf Rd. continues to generate high quality content. The band hires producers and other artists for merchandise and music videos, and Hoffmann recommends up-and-coming artists do the same.
Wolf Rd. will be releasing their second EP, "Bloom & Disconnect," on Nov. 18. Additionally, the band has a release show at the Cobra Lounge in Chicago on Dec. 10. Fans can now listen to four of the tracks on Spotify and catch the music video for the EP's title track on YouTube.