Look up: art show museum can be easily missed
For an inexperienced art show visitor, the artwork surrounded by artists can be quite intimidating. Especially if these artists are on the way to an afternoon class for students it can be hard to prepare for class and to walk through an art gallery. It can be hard to know what type of attitude, etiquette to have, or what questions to ask.
Yet the museum can be easily missed often if a person doesn't look up when walking through the hallways.
The art show "Our Bodies, Our Health" is to help navigate the wars within and around us. The museum was filled with people that came from all over for the opening night Oct. 13.
Some people were family members of the artists whose works were on display, some were people looking at the art who were not a part of the Oakton student body and others were students like myself who were taking a look around the exhibit.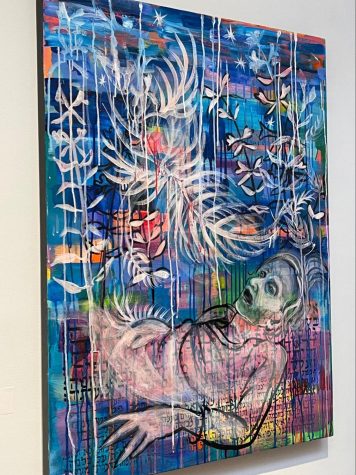 The first piece that stood out was one tucked in a small corner between two huge pieces. A ceramic piece that was covered in such negative words yet had a hand in the middle reaching above dripping in colors. Peggy Goldman, a kind woman filled with wise words was behind this piece.
A board covered in words of hate and anger filled the world for Goldman for quite some time and she struggled to figure out how to navigate through such a depression. "I struggled with this piece due to how negative and horrible everyday news would be; it would just be tragedy after tragedy," said Goldman. "It felt like we were all trying to claw our way from all of these negatives in life."
Goldman explained that she felt too old to feel this bad. Overtime, she overcame her depression which included creating such a work of art. The second piece is a painting based on the end of the cycle of life. Judith Joseph's "Death of an Artist" is painted with the love of a daughter and the colors represent a good life.
Joseph described how she paid respect to her mom with this painting after her passing, which included asking her immediate family before she showed her work publicly. "I called my dad and showed him the painting because I wanted to get his and our family's reaction before anyone else and my dad said that my mom would have loved this piece," said Joseph.
Joseph explained why her death was the inspiration for the painting rather than an accomplishment her mom had completed. "I feel like death always is represented in such a negative space and dark or monotone colors," said Joseph. "I wanted death to be colorful since life has been beautiful. Death is just the last part of the beauty."
The public is welcome to the next art exhibit which features faculty works. The reception takes place on Thursday, Nov. 17 from 5-8pm. The event lasts until Dec. 2.