Artist shines light on 'strength' in women's exhibit
Oakton's Koehnline Museum of Art hosted a public reception for the artists of the women's art show on Oct. 13. The show is dedicated to the bodies and health of women everywhere and runs until Nov. 10. The museum showcased  many thought-provoking pieces, including one painting titled Adeera. 
"Adeera is the Hebrew word for strength, specifically for women," said the artist, Ronit Galazan. Strength is the accurate word for this piece, as it depicts a woman standing with her head raised and her sternum exposed while butterflies surround her. According to Galazan, the shirt is open to show her vulnerability. 
The placement of the butterflies is a symbol in itself. Galalzan said, "the butterfly at her throat is her getting her voice back," and the one on her stomach is, "where her soul, her chakra is, any lower than that is where she would give birth, where her fallopian tubes are, where her strength is."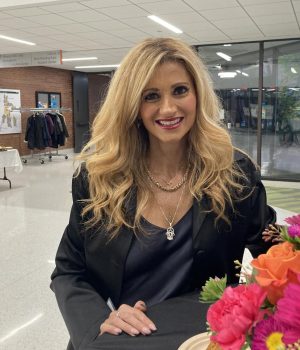 This ties in to the recent events regarding the overturning of Roe v. Wade. Galazan pointed out how for young women today, the right to choose is more important than ever. She said, "You choose what is best for you."
Galazan continued by discussing how events like these are what bring women together and make us stronger. She used the term, "metamorphosis" to describe a woman's journey on her own, and as a group. 
She said, "my work has always centered on how women go through metamorphosis, how we change over the years, how we become stronger with every hard lesson."
Galazan is an artist who uses her work to tell stories and share lessons. The story of Adeera is one that many women can relate to. It highlights the significance of a woman's ability to grow and find strength in herself.