Oakton holds first in-person Distinguished Alumni Ceremony since pre-pandemic
Each school has its share of alumni to be proud of, Oakton has honored some of its finest. Oakton's Distinguished Alumni Awards night, held on Sept. 29, boasted the experiences of four  impressive alumni. 
Alan J. Berowsky graduated in 1991 after earning an Associate's degree in Fire Science, which propelled his career as a firefighter/paramedic with the Chicago Fire Department.
 "The career is rewarding, anything from delivering babies and putting out fires and larger-scale events," said Berowsky in a pre-recorded video.
He continued on to earn a B.A. and an M.S. in Management from National Louis University, which allowed him to undertake a professorial positions at Oakton in the Fire Service curriculum, the Northeastern Illinois Public Safety Training Academy, and the Illinois Fire Chiefs Association. As a result of his professional education, he served as a Chief Officer for seven years. 
During his video-speech, Berowsky recounted the most memorable moment during his career, which was saving a 3 year old boy from drowning. "All my training from Oakton kicked in and within 90 seconds, the boy was breathing and would prove to make a full recovery. I think that alone was worth my whole career." 
Deyanira Cardenas, a 2006 Oakton graduate and current mathematics teacher at Springman Middle School, was described as "upbeat and innovative" in her teaching style.
While Cardenas helps make math "accessible and even fun" for her students, her impact outside the classroom continues to be  impressive.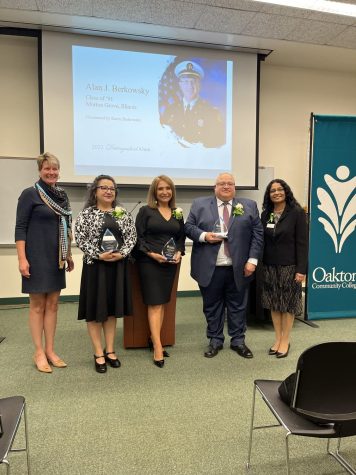 During 2006-2009, Cardenas returned to Oakton to work as an adjunct professor and math tutor. "My time at Oakton has been one of the biggest influences in my teaching," said Cardenas.

While working at Oakton, she co-founded the award-winning ¡ANDALE! program, which supports the success of Latinx students. "Thank you, Oakton, for preparing me to be a teacher," she said, laughing. "I would not be prepared for 30 students all calling my name at the same time if I hadn't been a tutor at Oakton first." 
Samuel J. Lopez, a 2005 Oakton graduate, has made an undeniably selfless impact. "Sam has always had a big heart," said Tim Panfil, the evening's presenter and an Oakton Alumni Council member. 
During his 10 years in the US Air Force, Lopez worked as an aeromedical evacuation crew member with the USAF Reserves and in Middle East combat zones during the Persian Gulf War.
He  continued his career saving lives as an EMT/paramedic for 12 years and a Des Plaines police officer for 21. Lopez's career path shifted in 2011 when he began teaching 12 forensics and criminal justice courses at Columbia College of Missouri in Elgin, IL. 
He attributes his success to the initial Associate in Applied Science in Law Enforcement that he received from Oakton.
"It is here, at this campus, that I experienced a series of life-changing events. It was here, in this very room, that I attended several police training sessions and went on to work with troubled juveniles," said Lopez. "Oakton Community College has become my extended family and will always be in my heart."

Julian Serafin Gil graduated from Oakton in 1997 with a degree in Liberal Arts. "Julian is a humanitarian who has consistently put his life at risk to help others," said his mother, Ana Gil, who accepted Gil's award on his behalf.
"It is my greatest honor to represent my son as a mom and a fan as he continues his humanitarian journey in Afghanistan, where he currently manages the deployment of emergency supplies to flood and earthquake-affected areas." 
Before his mission in Afghanistan, Gil previously worked for the United Nations World Food Programme in Johannesburg, South Africa as well as for Doctors Without Borders as a "water, hygiene, and sanitation manager in Ebola treatment centers" in 2015.
In her speech, Ana explained that while some seek a consistent schedule in their lives, that wasn't the case with her son.

"Some of us must forgo the comforts of the American dream to help others," said Gil in a letter read aloud by his mother, and an air of hushed solemnity washed over the room. "Nine times out of 10, your gut feeling will guide you." 
"Thank you for providing Julian with this education," said Ana tearfully. "It is the best education he has received." 
These four distinguished alumni may have chosen very different noble, selfless, and undeniably impactful avenues, but there is one aspect they have in common: gratitude towards Oakton and the education they received here.
"Looking through the lens of time and celebrating your accomplishments long after your time with us has passed is incredible," said Oakton President Joianne Smith. "You embody the values we want to instill in students."