Des Plaines Park District job fair approaching on April fifteenth
Attention, job-hunters and experience-seekers alike: The Des Plaines Park District is offering a District Job Fair on Friday, April 15th, at the Prairie Lakes Community Center. 
This news is of relevance for all ages, talents, and vocations. The Des Plaines Park District hires students looking for resume builders, recent graduates striving to develop skills, professionals interested in advancing within their career, and even retirees seeking additional income. 
This job fair will allow potential future employees to meet hiring managers in an abundance of careers, including: 
Athletics

Aquatics

Camps

Dance & Arts

Fitness

Front Desk

Grounds

Horticulture

Landscape

Mechanical Maintenance

Special Events

Special Projects

Special Recreation – Inclusion
Summer is approaching at a daunting speed, and the Park District requires nearly 300 seasonal staff for summer operations, experiences that may be beneficial for a vast array of future careers! 
Lifeguard positions for Mystic Waters, Chippewa, and Iroquois pools provide vital experience needed for a position in the medical field, while Summer Camp Counselors, Assistant Directors, and Director will undoubtedly help to build resumes for future education careers, service positions, and provide management experience. 
For individuals seeking experience in face-to-face support and customer service, Cashier, Attendant, and Concessioner positions provide a variety of important needs for facility users. 
As for ways to leave your positive mark on the community, Landscape and Maintenance positions are needed for the beautification of parks and facilities throughout Des Plaines. 
In addition to seasonal positions, year-round opportunities are equally sought-after. These include Front Desk Associates, which are great for the development of skills in the hospitality industry, as well as instructors for all types of athletics, speciality programming, hobbies, and more.  
While choosing to work at the Park District is a guaranteed way to gain valuable experience for resumes, varied careers, and a plethora of futures, it also isn't without benefits! 
Advantages include competitive wages, on-the-job training, and flexible work schedules- available shifts include the early morning shifts, afternoon shifts, and the evening shifts. Moreover, employees will be offered: 
Free outdoor pool passes with access to Mystic Waters, Chippewa, and Iroquois

Free fitness membership to Prairie Lakes Fitness Center, Aquatic Center,Gymnasium, and ALC Health Club

Golf Center, Lake Park Golf, and Mountain View Adventure Center daily admission discounts

General class program discounts 
"We just expanded our benefits to include free use of our facilities," said Joe Weber, Superintendent of Recreation. 
The social benefits of working at the Des Plaines Park District are plentiful; as teamwork is often needed, employees are guaranteed to make friends with their coworkers. A sense of camaraderie is fostered in the workplace, something that is as rare as it is genuine. 
"When people think about going to work, there's usually a connotation of a stale social environment," said Park District employee Alexis Mitchell. "While working at the Des Plaines Park District I have made several friendships that I wouldn't have otherwise." 
If this opportunity captures your interest, please join the Park District's many capable hiring managers on Friday, April 15th, at the Prairie Lakes Community Center. The fair will occur between 11am and 6pm, and will be held in Mountain View rooms 1 and 2. 
Don't miss this valuable opportunity to gain beneficial experience, build a resume, positively impact the community, and- as many current employees can attest to- have fun.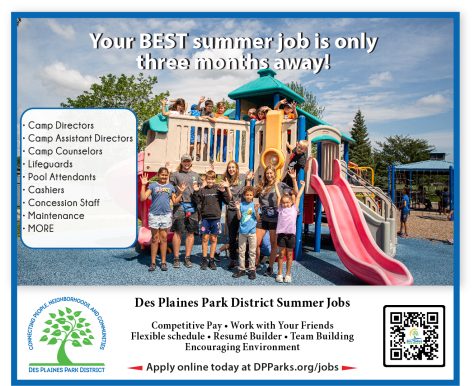 To view an extensive list of all available positions, please visit https://www.applitrack.com/dpparks/onlineapp/