Employment opportunities at the Des Plaines Park District
For students searching for a job that will allow them to positively impact their community, earn money, and gain valuable experience, it is worth applying to work at the Des Plaines Park District.
In the general area, Des Plaines Park District is the largest employer of staff between the ages of 15 and 21, and there are nearly 300 seasonal staff needed for summer operations. This opens many positions for any willing and eager workers. 
When juggling college courses, extracurriculars, and at-home obligations, the average college student might think themselves too busy for employment. Fear not, schedule-packed Oakton students: the Des Plaines Park District offers extremely flexible part-time schedules for a vast array of employment choices! 
Reportedly, Oakton has a reputation for catering to nursing students. For students planning on pursuing a career in the medical field, a lifeguard position will provide vital training; summer positions at Mystic Waters, Chippewa pool, and Iroquois pool are open for application. 
Nursing students aren't the only majors that would benefit from working at the Des Plaines Park District. The position of Summer Camp Counselor, Assistant Director, and Director would be recommended for students pursuing a career in education or futures in other service positions, as these roles will also provide invaluable management experience
!
Early childhood education majors can also work as camp counselors, therefore learning how to care for, manage, and organize activities for large groups of kids.
Furthermore, the roles of cashier, attendant, and concessioner all provide a variety of beneficial experiences for customer service and face-to-face support for facility users, and Front Desk Associate roles will aid in the development of skills in the hospitality industry. 
Other extremely necessary and impactful roles include landscape and maintenance positions, who are responsible for the beautification of parks and facilities throughout the community, as well as instructors for all types of athletics, specialty programming, and other hobbies. Both year-round and seasonal employees are in demand! 
"Park district is a good place to build various skills that are necessary for future employment. You'll have the opportunity to do many different things," said Tyler Fuchs, Athletics and Facilities Manager. 
While choosing to work at the Park District is a guaranteed way to gain valuable experience for resumes, varied careers, and a plethora of futures, it isn't without benefits. Advantages include competitive wages and flexible work schedules; available shifts include the early morning shifts, afternoon shifts, and the evening shifts. Furthermore, employees will be offered: 
Free outdoor pool passes with access to Mystic Waters, Chippewa, and Iroquois

Free fitness membership to Prairie Lakes Fitness Center, Aquatic Center, Gymnasium, and ALC Health Club

Golf Center, Lake Park Golf, and Mountain View Adventure Center daily admission discounts

General class program discounts 
"We just expanded our benefits to include free use of our facilities," said Joe Weber, Superintendent of Recreation.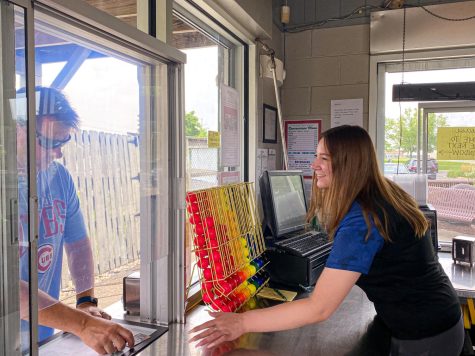 As the largest employer for ages of 15 and 21, the park district offers any willing employee the likelihood of working with their friends or community members in their age group. This workplace environment fosters a sense of camaraderie, cooperation, and teamwork. 
When scanning the abundance of employment opportunities offered, Oakton students are bound to find a position that would suit them. By choosing a role at the Des Plaines Park District, new employees will find themselves gaining beneficial experience, building their resumes, positively impacting the community, and- as many current employees can attest to- having fun.
If this opportunity piques your interest, please call at 847-391-5711. A full list of available positions can be viewed at: https://www.applitrack.com/dpparks/onlineapp/