One aspect of Trump's administration rates as accomplishment
Of the many failures in the Trump administration, foreign policy is not one of them.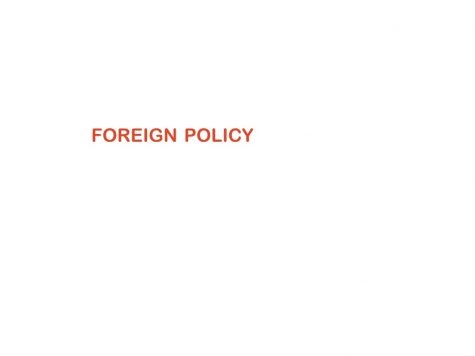 Since appearing on the escalator, and announcing his plan to run for office, Trump plays a key role in the country's tumultuous trance. From his vulgar comments that receive daily coverage, to his divisive plans like building a "massive" wall, the President manipulates the nations emotions, like a puppet-master that pulls strings. 
The President's hallmark domestic policy accomplishment is passing a tax-cut bill that doesn't reach the middle class. Republicans passing tax-cut bills is hardly an accomplishment, since it's been achieved by many of his predecessors. 
However, one key accomplishment of the Trump administration is reworking the guidelines on how trade will be conducted in North America. USMCA replaces NAFTA, and with it brought a more advantageous trade agreement for the U.S. 
Another significant foreign policy move by the Trump administration forging peace deals in the Middle East. 
Israel has contentious issues with its neighbors in the Middle East dating back decades. The administration first started by moving the U.S. embassy to Jerusalem. The move was commonly criticized by most in Washington.
In an interview with David Martin of CBS, the former Secretary of State, John Kerry, warned of an "absolute explosion in the region (Middle East)," if such action is taken. 
Fast-forward three years, Israel signs peace deals with the United Arab Emirates, Bahrain, and Sudan, with more on the horizon. 
The last of many Trump foreign policy accomplishments is inserting the U.S. relationship with China into mainstream conversations. 
The rise of China is linked to the desire for higher profit margins, and cheaper goods. With that, came negligence to China's treatment of its working class. Most work for minimal wages, and some are pushed into Forced Labor. 
According to a July, 2020 press release by the Uyghur Human Rights Project, many of the most sought after U.S. companies are accused of using Forced Labor. Companies like Nike, Amazon, Costco, and many more are on this list. 
Former administrations left China alone with the hopes that when profits come, and major wealth is accumulated, they will be enticed to pursue more democratic values. 
The U.S. and Chinese citizens have seen the opposite effect. 
China continues to operate its re-education camps, stole Hong Kong's autonomy, and has its sights on Taiwan next. 
Many of Trump's policies will be reversed by the nearly-confirmed Biden administration. It would be wise to continue some of the progress made by the current administration, then to revert to foreign policy ideas of 2016.