Oakton's TRIO Program Hosts National First Generation College Student Week
The last day to celebrate National First Generation College Student Week, hosted by Oakton's TRIO, is today, so make sure you don't miss out!
Throughout the week, there have been a number of fun and engaging activities. Today, at 2 PM, there will be an Open Mic, and in days past, events have included First-Gen IG Takeover, Kahoot, and other social media presence. The events pose as an insider to gain some insight on the in and outs to being a first ge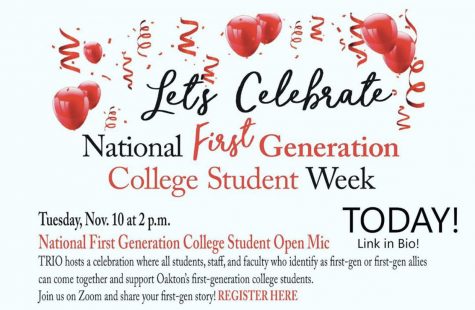 neration student. 
What is a First Generation College student, though? 
According to Marquette University (MU), the formal definition of a first gen college student is, an individual would be the first from their family to obtain a degree from a four-year college/university. To be more specific, regardless of whether grandparents, aunts/uncles, or siblings possess a degree, if an individual's parents do not have one, that person would qualify as a first gen student. 
MU also dives deeper into explaining some of the complications many face being first generation. For example, the pressure to succeed being moreso, as an individual may be one of the firsts in your family to do so; or the inability to communicate fears and worries with family, as they may not be able understand; or having to also learn unspoken cultural norms and expectations uni life demands. 
Regarding his own difficulties, Oakton student Umar Moeen said, "Being a first gen student is tough because of the standards I have to exceed, [but it has] pushed me to work harder and develop a stronger work ethic." 
However, TRIO was created nationwide to assist students of this, and many more diverse backgrounds, to combat any trouble they may have academically and professionally. 
Josselyn Cruz, another Oakton and TRIO student says, "The TRIO Program at Oakton had helped me a lot from classes to different resources at Oakton in order to succeed in my academics throughout the year. I plan to apply to the TRIO program at Northeastern Illinois University which is where I'll be transferring in Fall 2021."
TRIO offers a myriad of services from Academic and Transfer advising, to Tutoring and Cultural Events and Activities.  
Speaking of Activities, TRIO had kicked off First Gen Game Night and IG Takeover on Nov. 6, and another IG takeover Nov. 9. The takeover was hosted by a First Gen student in TRIO to provide a little bit more insight on how they were personally impacted by TRIO. The next activity was on Nov. 8, encouraging social media posts of first gen students! Posts and mentions of listed hashtags and accounts are to receive prizes, as well!
About the National First Generation College Student week, Cruz said, "TRIO has been doing a wonderful job of putting these fun and exciting virtual events for the students for First-Gen Week. I enjoyed hosting the First-Gen Game Night in order for students to have fun and win prizes."
Again, don't forget to sign up for the Open Mic at 2 PM through this link here!