Researchers are looking for daily study habit volunteers
Everyday Experiences and Environments (E3) Study
Researchers from UIC are looking for volunteers for a research study on your daily life, including how you feel and what you experience.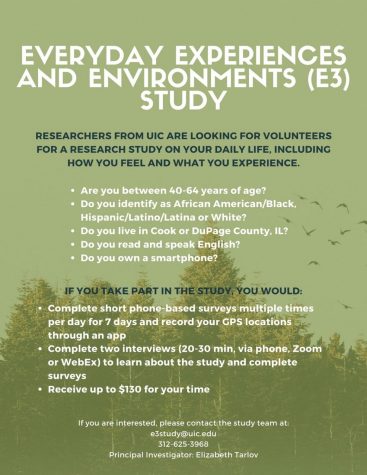 Are you between 40-64 years of age?
Do you identify as African American/Black, Hispanic/Latino/Latina or White?
Do you live in Cook or DuPage County, IL?
Do you read and speak English?
Do you own a smartphone?
If you take part in the study, you would:
Complete short phone-based surveys multiple times per day for 7 days and record your GPS locations through an app
Complete two video interviews (20-30 min, via Zoom or WebEx) to learn about the study and complete surveys
Receive up to $130 for your time
If you are interested, please contact the study team at:
312-625-3968
Principal Investigator: Elizabeth Tarlov