Wellness Center offers resources for students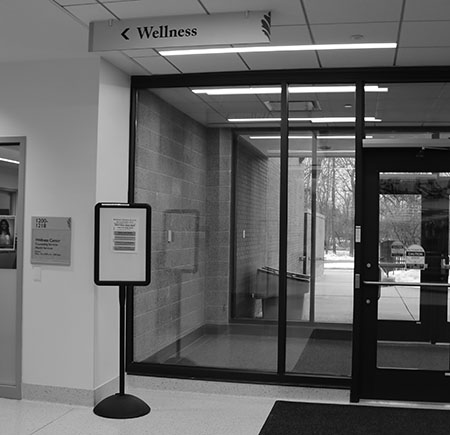 It's flu season, and with the recent outbreak of the coronavirus, public health safety is more important than ever. Despite this, maintaining good health can be difficult, especially for young college students. 
Students are thrust into the deep end at 18, expected to know how to take care of themselves. First-generation college students in particular experience a level of uncertainty because they have to learn everything independently. 
A big problem with student health is knowing where to begin. We all try to make New Year's Resolutions, but have we gotten our flu shots yet? Do we know where to go for counseling? It's these type of questions that are often put on the back-burner of our minds when our studies take up much of priorities. 
One of the keys to having a successful college experience is to take advantage of the campus resources. According to Health Services Manager Chris Petray, the health of students is important for their future academic success. 
"Students' health and wellness are directly correlated to student success," Petray said. "We may not always need to feel great to do well, but illness, inattention to self-care, or stress impact the ability to perform well and reach our potential."
Oakton scholarships, the learning center tutors, involvement on campus are all commons routes students can use in order to succeed. But some students are still not fully aware of all that Oakton has to offer, specifically the Wellness Center. 
Kevin, an Oakton student, states that he is not aware of everything available in the Wellness Center. "I don't really know the health benefits that the Wellness Center offers. I'm new here, so I don't know a lot," Kevin said. 
The Wellness Center primarily aims to support student's academic success, physical health, and mental-well being.
"Physical and mental wellness are two parts of every person," Petray said. "At the Wellness Center we have both 'Counseling Services'  and 'Health Services.'" Both of these services are provided in a timely and confidential manner.
The Health Services also provides resources for physical health. If students need assistance with health-related issues, registered nurses offer support for quick and smart decision-making. Also the Wellness Center provides physical examination for athletes and EMT/health career students, sexual health resources, rapid strep tests, and more for no cost or at a minimal charge.
Taking advantage of the Health Services here is a step towards getting the necessary education about maintaining a healthy lifestyle. It's little to no cost, so there's no reason to not go.
The Counseling Services, too, are a resource for mental well-being. In this modern age, taking care of one's mental health is critical. The Counseling Services offer a lot of support for struggling students, and more importantly, at absolutely no cost. They help with issues such as family problems, academic difficulties, and suicidal thoughts. 
Neglecting mental health can be seriously detrimental and help is offered here, so students should feel free to take advantage of these resources when needed.
"While we have a range of health and counseling services available at each campus, at times a student's health needs may require services outside of what we are capable of providing. In those circumstances, we work to find resources outside of the college that are suited to address the issue the student requires," said Dean of Counseling, Health, and Wellness Mark Kiel.
Overall, the Wellness Center is a great resource for both physical and mental health benefits, but it's a resource not utilized well enough by students. This could be because of its location: the center is tucked away at the end of the hall at Exit 5 near the art labs, hidden from most students.
Being out of the main areas has definite cons, but an immediate pro is its privacy.  The isolated location of the Wellness Center acts as a buffer, giving students privacy for sensitive matters. 
Because of this, students can freely visit their counseling sessions or seek information for a health-related issue without fear of running into people they know. This is great for students who need privacy and might feel hesitant about heading over to the Wellness Center in public. 
Regardless, there are many ways for students to begin a healthy lifestyle, and there are many reasons to do so, especially since healthy lifestyles have positive lifelong influences. "Health awareness and practices that are established early tend to persist throughout life. If you can establish good habits they tend to persist!" Petray said. 
Staying healthy is  complicated, and there's no need for students to navigate it on their own. The center offers free and accessible resources to help support student success. Taking advantage of the Wellness Center is only one of the many things that will make time at Oakton rewarding and beneficial. 
The Wellness Center is located at Room 1200 on the Des Plaines Campus  and is open from 8:30 AM to 4:30 PM on Monday through Friday. On the Skokie Campus, the Wellness Center is at Room A175 with hours from 9 AM to 3 PM on Monday through Thursday.
For Outreach purposes, counselors are available to speak to classes, clubs, and other student groups upon request. Contact the Wellness Center for scheduling purposes. Counselors can also offer workshops and support groups on various topics such as study skills and LGBT support. Information on scheduling and services are available on the Counseling Services website. 
Likewise, students can stay informed with the latest updates in health by reading the free online health magazine called CAMPUS WELL by Student Health 101, designed specifically for Oakton students.