Enjoy best of glazed donuts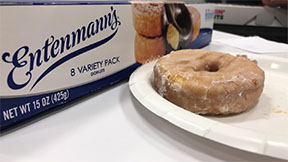 From what were once only found in small local bakeries, donuts are now one of the most common foods in America. With roughly ten billion eaten per year, there are tons of different brands of donuts. Which begs the question, which donut brand is best?
There are five local donut brands that have been ranked based on location, price, and overall taste. There is Entenmann's, the grocery store's bakery donuts, Dunkin' Donuts, Starbucks, and the Oakton cafeteria donuts.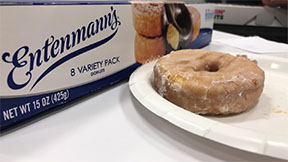 Entenmann's donut had a powdery taste to it along with its hardened sweet glaze. You pay 70 cents for one donut and it's well worth it. Entenmann's is convenient because it's sold in grocery stores.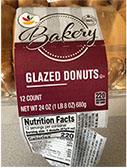 The grocery store bakery donut had a good balance of sweetness, and an average medium consistency, without being too thick or too thin. There was no aftertaste to it, and the $0.27 price per donut in a dozen pack makes this donut all the more appealing compared to the higher price of most name brand donuts.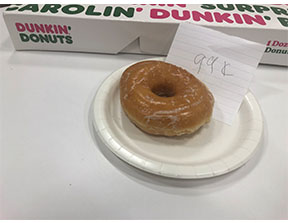 Dunkin' Donuts 99 cent donut. It is a six minute drive from Oakton to get to the Dunkin' at 966 Golf Rd in Des Plaines. The glazed donuts Dunkin' had performed quite well on our taste test, and it doesn't break the bank like some of the other donuts on the list.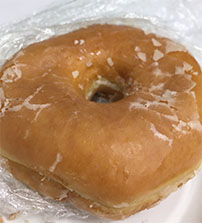 The Oakton cafeteria donut was significantly less fresh than the rest of the samples. However, this donut brought me back memories of the cafeteria donuts I ate in high school. Although the overall quality may have been less desirable, it would still make a great snack during any class. Given the convenience to Oakton students and relatively cheap price of $1.09 this glazed donut is worth the purchase.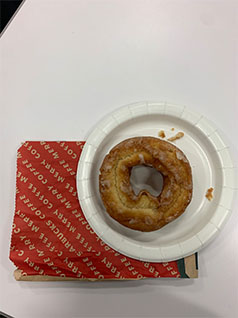 The Starbucks donut was very sweet but dry compared to the other options. There was less glaze and it was not as shiny looking. While the donut lacked lots of glaze it made of for it with actual dough. The donut itself was very filling and was a little larger in size than the other options as well. Unfortunately, the Starbucks donut was knocked for its expensive price of $1.50. While this glazed snack was appetizing, the price and quality of other donut options may sway the opinion against the Starbucks donut.
A:  Entenmann's, 70 cents
B: Grocery store bakery, 27 cents 
C: Dunkin' Donuts, 99 cents
D: Oakton cafeteria donuts, $1.09  
E :  Starbucks, $1.50, 9483 N. Milwaukee Avenue, Niles