IT Promotes National Cyber-Security awareness month
Robin Sluzas
The National Cybersecurity Alliance (NCSA) named Oakton Community College a 2019 National Cybersecurity champion last month.
The NCSA's purpose is to  "build strong public/private partnerships to create and implement broad-reaching education and awareness efforts to empower users at home, work and school with the information they need to keep themselves, their organizations, their systems and their sensitive information safe and secure online and encourage a culture of cybersecurity." 
To increase cyber awareness amongst the Oakton population, Oakton's IT department held an Cyber-Wise event to spread IT awareness, part of which was a contest for students asking entrants to create a poster featuring a topic related to information technology.   Seven entries were received and the winner Karen Suarez was announced on Oct. 16.
The IT department also organized a "Know the Security Policy" contest that was held every week through the month of October via Oakton Matters. The giveaways were sponsored by vendors such as SHI, Beyond 20, Impact, Pentpoint and others.
While Oakton's IT department clearly does an incredible job protecting our networks and systems at school, it is also important that students, faculty and staff contribute to this continuous effort.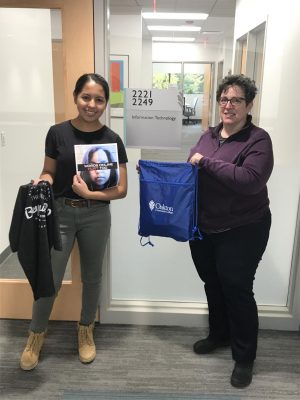 Generally speaking, there are potential security issues that students can assist Oakton IT with. A few simple rules to follow are: 1) If you are not sure about an e-mail or a link, do not open it. 2) Be careful what you search for; you could unwittingly expose yourself to a computer virus. 3) If an URL is expired it could have, unbeknownst to you, been purchased by a company or entity other than the company or entity you were looking for. could in turn infect the computer or mobile device you are using. 
4) If you receive an advertisement, e-mail or any other communication via computer or mobile device that is too good to be true it probably is. Delete it immediately.
In other words, the site could contain malicious code. Should students or staff suspect that something is not right or they know they have a problem while using an Oakton site, please report it immediately be e-mailing [email protected] or calling 847-635-1965.