Robocalls attack cellphones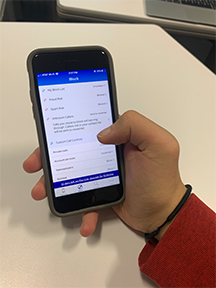 Robocalls, no one knows where they come from, but everyone hates them. Most people get them nearly every day.
For student Annika Dehorn, "I get robocalls every day, and they're usually people talking about car insurance and I hang up," said Dehorn. "I'd definitely be interested in buying an app that handles robocalls because they are very annoying."
What Dehorn finds creepiest about robocalls, "[…] sometimes they'll talk about my phone bill, and they'll have my name which is always creepy to hear," said Dehorn.  
Student John Halkias is constantly picking up the phone to robocalls. "I get them about three to four times a week. I always answer them because they typically have numbers similar to mine, and I think it might be of importance," said Halkias.
When Halkias realizes his call is a robocall, he is always annoyed because he hates robocalls with a passion. This leads him to hang up after they, "[…] tell me some kind of nonsense that in no way applies to me and I hang up," said Halkias.
Brandon Streb, a student, also finds robocalls particularly annoying, " I get them only a few times a week, and I have always hung up as soon as it sounds like a robocall," said Streb. 
Streb is interested in the idea of an app that deals with robocalls, "That's a good idea, but if it costs money it should be minimal," said Streb.
For student Nick Varvouletos, he receives robocalls in bunches throughout the week. "I don't get them very much, but when I do they come in bunches, usually multiple calls in the same day," Varvouletos said. 
Varvouletos also expressed interest in an app that deals with robocalls, "An app would be cool. It could definitely be useful to those who get robocalls every day. I wouldn't mind it costing some money, especially if I were getting them frequently," said Varvouletos. 
There are such apps that deal with robocalls. One app, Robokiller, costs 99 cents per month. 
AT&T provides a free service to its customers through the app called AT&T call protect, which blocks suspected robocalls.
Varvouletos has found that the phone numbers of robocalls have been more than just similar to his own. "One of my coworkers has received a robocall from his own number, and on his phone, it said that he was calling himself," said Varvouletos.