Artist turns dress into an autobiographical dress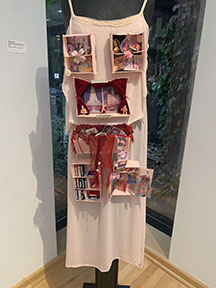 Meg Guttman is a sixty-four-year-old Chicago-area based artist, specializing in collage, fabric and mixed media. She did not attend Oakton; however, she attended the prestigious and difficult to get into University, Yale. Her work has been shown at the Koehnline museum, the Elmhurst Art Museum, the Art Center in Highland Park, the Chicago Cultural Center, and the Figge Museum in Davenport, Iowa.  Guttman was born in North Carolina and lived there about half of her life then moved to Chicago and has lived there for thirty-two years. 
She also works as an art model.  "I always liked art and studied art history. What originally got me into this was hanging around artists and being a model," said Guttman. She explained that she liked experiencing the regular art world better than the performing arts because performing arts always consisted of the big draw towards fame and difficult competition. Guttman is a self-taught artist. However, she was taught to perform and did stage shows growing up.  
Guttman mainly works with collages and fabric. She usually likes her pieces to be very characteristic. She started doing flat pieces and her work has become more three dimensional as the years come on. The piece that she made in the Koehnline Museum reflects her experience as an art model. 
When she posed naked, she was regarded as exposed-more than most people would like her to be. To her, it's almost the opposite. "Bare flesh gives away almost nothing of a model's life or personality. I don't mind being an enigma, or stand-in for humanity in general, but since clothing is a big part of my expression according to others, I thought it would be funny to create an autobiographical dress," said Guttman. 
The items on the dress include: her home and parents in North Carolina, symbol for love and marriage, her performing career, sexual fantasies, bookshelf of books she liked, an armoire full of costumes are on the front, and a vanitas of some junk drawers are in the back. 
"I like them to get a feel for who I am, my history, and I want people to think about their own lives and how my piece represents them. I want people to find humor out of my work as well. I like people to laugh," said Guttman. 
Although her art piece was totally original, she was influenced by many other famous artists and famous kinds of artwork. The theme of the transmorphic (The phase between one thing becoming another), Salvador Dali, Joseph Cornell, boxes with objects in them, and mysterious pictures. 
Being an artist has definitely been one of Guttman's most favorite hobbies throughout her life. Although art has filled most of her free time, she isn't sure where she'll take her talents next. She explained how she had been working on a giant project that she started last year. However, she recently finished it in the past couple weeks. 
Guttman added that she likes taking as long as she likes because doing a project too quickly may make the details on the piece not look so perfect. The project that she recently finished was a giant doll house that she constructed herself. When space opens up, Guttman plans on putting her piece in another exhibit. 
SEE RELATED STORIES: