Art show looks into women's perspective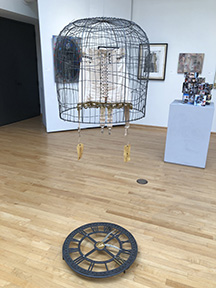 The Oakton Koehnline Museum of Art held an art show by women which was a look into the woman's perspective on how they perceive the world of fashion. 
Overall the art exhibit was a great way to show individualism in the female perspective.  We had many well established artists who have connections with our area.
Being a male who has not been involved in t
he women's progressive movement, I can bring a new perspective in the interpretation of what the art means to me.
Here I will be reviewing the pieces that stood out to me:
Judy Shecther had a piece on display called: "Can't Breathe."  This particular piece of art had a birdcage like dress hovering over tiny legs.  Taking a closer look you can see a clock with two hand mirrors representing the minute and hour hand.
This piece was an attempt to mimic the idea that women are enslaved like a bird in its cage towards the ideal fashion trends in today's society.  
The fragmented hand mirrors telling time shows that time just keeps on passing with no change.  With the glass being somewhat shattered shows that even as time passses society never bothered to change from what the ideal image of a woman could look like.  This could also explain the title of the Piece being named "Can't Breathe."
Pamela Hobbs had a piece on display called: "Bell Jar."  In this artwork we see a portrait of a woman in front of a house in a glass pod.  The picture is in black and white and is portrayed in a wooden frame.
This picture has a black and white tone to show the time period this was taken place.  The houses style shown in the picture resembled mid-century America.  This is also supported by the fact the picture is placed within an older style wooden frame. The woman in the white dress represents a married women.  
The significance of this artwork is the fact the woman is in a glass bubble.  This bubble mirrors women being stuck with the duties of caretaking and not really able to leave the house.  
Marriage at the time was a prison for women.  The expectation for women was to follow: raising kids and dealing with things around the house.  This left them with no opportunity to choose their own destiny.
Moving on to more of an interactive piece of art we have Karen Joy's "The human skin project: Are you comfortable in Your Own Skin? Selfie Station. " Here you can put yourself behind a cutout of a woman in a dress.
The concept of this station is to see how the title states: "are you comfortable in your own skin."
Here we see the concept of how women's fashion was made for unattainable figures because we would look somewhat awkward trying to put our face within the cutout.  
Not only that, but the dress makes a statement about using animal furs for presence of prestige.  This makes it look as if someone who dresses with furs and pelts use that to compensate for lack of confidence.
Saving the best for last, with the work "Refashioning Myself: What a Puzzle!" by: Marcia Grabowecky.
Here we have a huge rubix cube that can be twisted in many ways.  This resembles that we are always changing in life, but we change in the same patterns.  
With this being a Rubix cube we can be considered as the rubix cube and all the depictions on the rubix cube is the life experiences that make us who we are.  Since all the depictions on the rubix cube can not match each other, it shows how all of our experiences are indeed different and makes us all unique.
Another interpretation is that you can see how life can be messy and finding our true identity can be hard, but no matter how you look at it we are what life makes us.