Community appreciates art exhibition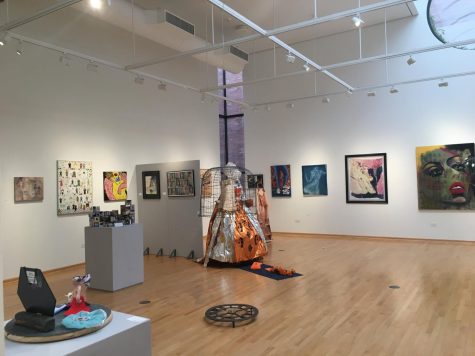 The Koehnline Art Museum at Oakton opened its annual women's exhibition on Thursday, Oct. 3. A public reception was held that evening to celebrate the grand opening of the new exhibit that is titled "Fashioning the Self: You Are What You Wear".
The museum features pieces created by female professional artists that portray what women wear and what the meaning of women's fashion is. In total, 67 pieces ranging from paintings to sculptures  were chosen to be on display in the gallery. 
Students and faculty who have visited the gallery seem to appreciate the works of art and have a positive sentiment towards the gallery being so easily available. "I love that Oakton has galleries like this," said student Jenni Palillero, "They create places where people can share their ideas and inspirations in a centralized location besides the internet." 
Palillero did not attend the opening but still wanted to see the gallery because of her passion for art. "I just find a pleasure in seeing how good people are at their specific craft," said Palillero about the pieces in the gallery. 
However, not every visitor had their expectations met during their experience. "I was kind of shocked all the pieces were done by professional artists," said student Reid Abrahamson, "I came to this event thinking I would see art from other students but that was not what I saw at least." The art, nonetheless, was still impressive. "I didn't care (about the lack of student pieces) either way," said Abrahamson, "I just came because I heard about the event and had some free time between a class." 
Palillero, Abrahamson, and other attendees expressed that they were happy Oakton holds events and exhibitions like this. "I'm glad we (Oakton) have things like this because when kids are at school all day and can't drive home between classes, it gives us something to kill our time with besides just doing homework in the library or cafeteria," said Abrahamson.
For anyone looking to see pieces done by professional artists or even just kill some time between classes, the exhibit will be available until Oct. 25.