Artist's sculpture redefines body image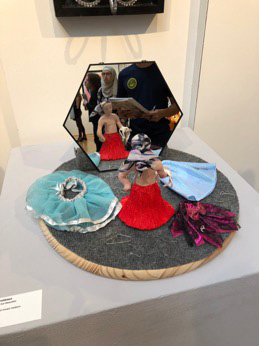 "Body image and fashion should be a thing we look over, mind over body," said local artist Peggy Goldman. 
Goldman has been an artist since she was 12 years old. She took art lessons at the Art Institute of Chicago. She then became an art teacher for 32 years. At 36-years-old, she was diagnosed with breast cancer and had to have a double mastectomy. She is now retired after beating breast cancer and continues to make art at the North Shore Senior Center. 
Art has always enriched her life, it is her love. She has experienced some downsides, however. Not all artists can make a strong living off of art, "I was lucky I was able to get into teaching," said Goldman. 
Lots of artists also suffer from copycats, which makes it even harder to make an income off of their art. 
This specific piece was 36 years in the making. "I used a mixed medium of ceramics and fabric from barbie dolls," said Goldman. 
This sculpture reflects her own experiences with her body images after her double mastectomy. It's a sculpture of her standing in front of a mirror at a wedding refusing to put on her dress because of how she looked with it on. "It was a very cathartic experience for me," said Goldman, "I didn't feel pretty in dresses."
Goldman believes that people shouldn't care what's on the outside. "Woman's bodies are secondary to what's inside," said Goldman.