Jack takes trip in OCCurrence wear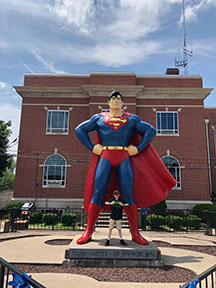 The Roads of Adventure
It was May of 2019. I had just graduated from Oakton with my Associates Degree with Honors and a legacy behind me as a student leader. I was proud of myself of all that I accomplished, sad to leave the place and people who felt like home, but ready to tackle the next adventure.
Within a week of commencement, I embarked on a solo journey through the great country roads of the great United States in my 2004 Mini Cooper, carrying a piece of what I left behind. Although I pre-planned my general route, everything in-between would be semi-improvised. I knew the risks that lay in front of me, yet I pursued the roads to adventure anyways, a path that is often scarcely traveled.
In this life, we are faced with decisions on a daily basis. No matter the circumstance, there is always a choice. Some are larger, like choosing a college, some are smaller, like choosing what to eat, and some take only a split second. A race car driver often only has a split second to decide whether to speed up, winning the race by risking it all, or to slow down and suffer defeat by playing it safe. It is these split second decisions that can determine whether you travel the roads of adventure and risk, or whether you coast through life playing it safe.
There's nothing wrong with either of these mindsets. It's up to the individual, and the individual alone, to decide for themselves how they want to live. I chose the road of adventure.
I started from the suburbs of Chicago, headed towards St. Louis for the first night. When I got to around Peoria, IL, my check engine light came on. I got off the highway and pulled over the nearest AutoZone to get a diagnosis. It turns out that the spark plug needed replacement. I didn't know what that was, or how big of a repair it was, so I started calling auto repair shops nearby.
Nobody was open, as it was a Sunday. Little did I know, that it was a simple service job, taking 10 minutes to install a part that was under $5. It could have been worse! Luckily, the employees at AutoZone were knowledgeable enough to walk me through replacing the part myself and gave the tools to do so. Within 10 minutes, I was back on the road once more! In those times of uncertainty, I remained calm because I knew that I could improvise if it came down to it. I had food and water nearby, my car was shelter, and I had air conditioning.
That's all I really needed. I arrived in St. Louis later that afternoon, visited the Gateway Arch National Park, ate, and drove to Manchester, MO, a suburb of St. Louis, where I slept in my car in a Walmart parking lot for the night after stopping at Starbucks to do homework for my online summer class at NEIU and charge my devices. 
The next morning, I drove to Metropolis, IL; the hometown of Superman, visiting the giant Superman statue at the town hall, and exploring the largest Superman museum and collection in the world. From there, I drove to Memphis, TN where I ate Elvis's famous peanut butter and banana sandwich for dinner before going to Coillerville, TN, a suburb of Memphis, for the night in another Walmart parking lot. 
Since I had a day to spare, and I had previously visited memphis with family before, I decided to drive 3.5 hours each way to Hot Springs National Park in Arkansas, another state, besides Missouri, I had yet to visit. Sure, my legs were tired from all the driving I did the days before, but I continued anyways.
I was greeted by 90 degrees and sunny weather, and a kind family who paid my lunch without even knowing me or talking to me. After a hot day in the sun, a beautiful mountain scenery, and a small jar of hot water that said, "my friends went to Hot Springs National Park and I all I got was hot water", I drove back to my Walmart in Tennessee that evening. I slept very well that night.
With a skip in my boot the next day, I traveled from Memphis to Atlanta all day long, stopping in Tupelo, MS at the birthplace of Elvis Preseley, having sat in his childhood porch swing with my Ukulele. Visiting friends and family for the next week and a half, I made my way through South Carolina, North Carolina, West Virginia, Cincinnati, OH, and back to Chicago, proudly wearing my OCCurrence Staff shirt through the journey.
In North Carolina, I had the pleasure of meeting my Bone Marrow donor, a woman who gave me a second chance at life, for the first time in nearly 17 years, as I had my Bone Marrow Transplant at age 3 in 2002. The day was heartfelt, to say the least, for the both of us. I also needed to stop in Charlston, WV at an AutoZone again to replace the other 3 spark plugs when my check engine light came back on again. That time I knew what I was doing!
I left on my trip on Sunday, May 26 and returned on Saturday, June 8; a two-week round trip traveling nearly 3000 miles. Although I was far away from home, it never felt that way. Home is where your people are, whoever that may be, and whatever form that may take. I have friends and family around the country, around the world even, which makes the whole planet feel like home no matter what. If this planet is all that we'll see in our lifetime, then perhaps we should be taking as many adventures as we can when we get the chance.
From driving the country roads of West Virginia, to making the choices in our lives that put on a path towards great adventure. Often, those paths are the most uncertain, but once you're on them, endless possibilities await. John Lennon once said it best; imagine all the people, living for today. If today is all we've got, let's make it a good one; but the choice is yours.