Six piano ensemble performs at Oakton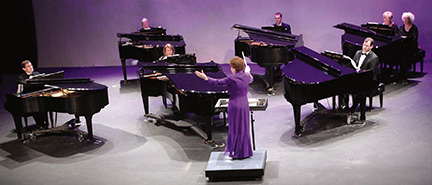 The Six Piano Ensemble is founded and conducted by Glenna Sprague, a professor and coordinator of music here, and she transcribes the music.
This event is on April 27 at 8 p.m. and April 28 at 3 p.m. at  the Footlik Theater.
The Six Piano Ensemble performs classical, ragtime, and popular music as well as symphonic repertoire transcribed for six pianos.
The group is called the Six Piano Ensemble because there are six pianists on stage and that is because the stage can only hold six pianists, and she thought having six pianists would be a good balance of sound.
The group consists of students here that range from ages 19-50. To be in this group musicians have to play at a certain level and audition.
Spraque created the Six Piano Ensemble over 30 years ago
She said, "I wanted to introduce my piano students to more than just than solo piano music, and there is a lot of exciting ensemble music out there, not just only solo music."
The Six Piano Ensemble has played all over the world. They have played in Europe, Austria, many different states in the United States.
They have played at many national music conferences and state music conferences. They were the only two year college at these events.
This group is different from any other ensemble group because as Sprague said,"There is no other group like us in the United States. That's because of what we do and our concept. Our concept is like an orchestra with the melody going from pianist to pianist; instead of having different instruments, we have only pianos."
The concept of the Six Piano Ensemble as Sprague said is,
Spraque said that the Six Piano Ensemble is, "Widely acknowledged as one of the most unique musical groups in the world, critics hail the Oakton Six Piano Ensemble as 'innovative,' 'technically superb,' 'musical,' and 'extraordinary.' "  
The event costs $17 for non-students, $14 for students and seniors and $12 for a group (10 people or more).
A reception will follow the concert with food and a chance to talk with the Six Piano Ensemble.
People can purchase tickets online at Oakton's website, by phone, in person at the box office, or through the mail.
For more information about the event call 847.635.1900.